Ethereum Code Review – Real Or Fake?
OFFICIAL SCAM URL: ethereumcode.co
The Ethereum Code app is a very suspicious new trading program for the cryptocurrency known as Ethereum. It is no secret that cryptocurrencies such as Ethereum and Bitcoin have been skyrocketing in value as of late. Of course, everybody wants to take advantage of those rising prices. Heck, it's a really profitable opportunity for everyone. The unfortunate reality is that people are not only trying to profit off of Ethereum. People, like the scam artists behind Ethereum Code software, are trying to make a profit at your expense.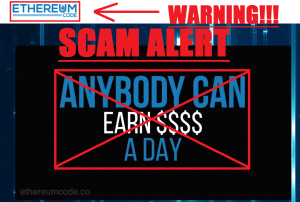 We did a whole lot of research and digging around. The evidence we found about the Ethereum Code trading system is not positive at all. This is total money thieving scheme with the sole intention of stealing your money and ripping you off. There is nothing legitimate or credible about it. Make no mistake about it. The crooks running this scam are looking to make money off of you. They are not here to help you make it. Let's go over some of the scam indications we found and why you need to be aware of this app. This is the Ethereum Code scam review and you definitely need to read it.
Who Is In Charge Of The Ethereum Code App?
This is one question that we need an answer to, an answer that we, unfortunately, do not have. Whenever we come across a trading system like this one, we want to know what company or which individuals are at the helm of it all. This is probably the easiest way of telling whether or not these trading systems are a scam or not. Well, during the presentation video we are only graced with the presence of a voice narration.
The guy doing the narrating never tells us his name, nor does he tell us of any kind of company. The whole Ethereum Code website never lists any contact details, company names, or the names of individuals who are in charge. This is a big problem for us. The only reason to remain anonymous is to protect the identities of the criminals trying to steal from you. The people in charge here know darn well that their actions are illegal and fraudulent. They just want to stay hidden so they don't go to prison. Never trust any kind of anonymous trading system.

Ethereum Code Scam Software – No Taxes?
This is kind of a tricky situation here, but for the most part, the claim of not having to pay any taxes on the profits made by the Ethereum Code app is simply bogus. Most if not all countries in the world would count this as income, and therefore income taxes apply to the earnings made by this system. Ok, so there are no taxes on the Ethereum itself, but once you transfer the money into your bank account, you can rest assured that your government will tax you.
Just think about it. You know how the law works where you live. Income taxes are very real and they tend to be quite hefty too. When you go to transfer your Ethereum funds into a real bank account, there is no doubt that some government agency will be taking taxes out of it. This is just a cheap trick to lure you in. It's a marketing ploy meant to trick you into signing up for Ethereum Code software, but it just is not true.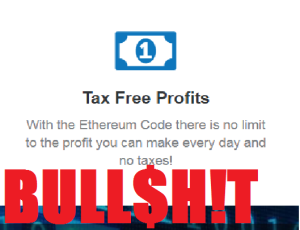 How Does The Ethereum Code Trading App Work?
That is another must know question that we have a total lack of answers to. The Ethereum Code website claims that there are extremely sophisticated trading strategies in place which comprise a lighting fast algorithm which then makes thousands of analyses of the market per minute. That is the only info we ever get. This is not nearly good enough for us.
That explanation is so vague and totally useless that we want to just cry. The whole we use awesome strategies and work really fast routine has worn real thin with us. You can rest assured that whenever you get a simple and meaningless explanation like that, it's bogus past all point of reason. We want to know how a program functions before there is any chance of us investing money with it.
Ethereum Code Software – Scam Brokers
Yet another obvious indication that this is a total scam is how the brokers involved are also scammers. If you are going to sign up for any kind of trading software, whether for BO, cryptocurrencies, Forex, or anything else, you need to be 100% sure that the broker you are assigned to is the real deal.
Yes, there are plenty of regulated and licensed brokers out there, ones which will, in fact, allow you to make a profit and withdraw that money. However, we quickly discovered that none of the brokers involved with the Ethereum Code app are legit. They are unregulated, unlicensed, and definitely not legally allowed to handle your money. These brokers have the express intent of draining your trading account.
BEST FREE DEMO FOR BROKER: IQ OPTION

Ethereum Code Scam Software – False Testimonials
The next giant red flag about this system that came to our attention is in relation to the plethora of user testimonials on the website. Would it really surprise you to find out that all of the user testimonials on the website are fictitious and just totally invented out of thin air? None of the people who left reviews is a genuine person. All of the testimonials were written by the same people trying to sell you this crap program and rob you of your money. They just used some random names and stolen stock photos to try and make the testimonials seem legit.
Ethereum Code Review – Conclusion
We know that we didn't even talk about profits, but the claim of being able to make $5,000 is obviously not true. Not even the best trading systems can do that. Just do us all a big favour and stay away from the Ethereum Code app, because you will end up paying through the nose if you don't.
BEST BO TRADER: Maximus Edge Autobot
If you would like to trade in BO or Forex and want to use a good program, you can try using Maximus Edge AutoBot. This is a relatively new trading service that has been extensively tested by the group of experts here at Binary Options Army. Maximus Edge Autobot Software can help you generate over $800 per day with ITM rates anywhere between 80% and 90%.
CLICK HERE: READ OUR MAXIMUS EDGE AUTOBOT REVIEW
IMPORTANT: If you have any questions, issues or you experience any problems please email us and we will be glad to assist you. Our contact customer support email is: bin[email protected] If you register with this service from our website then you will always have our full free support in case you run into any issues or problems. Remember that you are not alone, with us you will always be safe!
To date, we have settled close to 2,000 trading disputes and we will not stop until we put every last scam out of business! If you have been cheated out of money or scammed by any fraudulent trading service, we encourage you to reach out to our complaint center for free help. If you need help, we will provide it for you!
Thank you very much for reading this detailed review. Subscribe to our blog in order to be fully protected and to be up to date with all binary options services out there. Additionally please share and follow us on Facebook, Twitter, Google+ and Pinterest. See you next time!
Summary
Reviewer
Review Date
Reviewed Item
Author Rating