Blockchain 2 Bank Scam Review
OFFICIAL SCAM URL: Blockchain2Bank.com
Blockchain 2 Bank software is supposed to be this absolutely awesome cryptocurrency trading system. It is said that the Blockchain 2 Bank app can generate up to $5,000 in daily profits, or even more if you are lucky. However, there is a lot of suspicious activity going on here. If you did not already know, Bitcoin and other cryptocurrencies make for great trading opportunities at this time.
They are very volatile, so whether you make a call or put trade, you always stand to make some money. Yet, this is simply not true if you rely on a fraudulent program like the Blockchain 2 Bank app. There are many false promises and downright lies told to us by the people behind Blockchain 2 Bank software. In fact, anything you see on the website Blockchain2Bank.com, is nothing more than a trick to steal your money. We are here doing a Blockchain 2 Bank scam review and you need to read it. You need to be aware of this highly malicious and dangerous cryptocurrency trading system. It is meant to rip you off and it will definitely do so if you give it the chance.
Blockchain 2 Bank App – Same Scam, New Name
One of the very first things that came to our attention about Blockchain 2 Bank software is that it looks a lot like another program we recently busted. The BTC system we are talking about is called Banking on Blockchain. As you probably notice, the name is more or less the same, at least similar enough to raise suspicions. Well, it definitely made us look closer at Blockchain 2 Bank software and compare it with Banking on Blockchain.
Sure enough, both of the apps are exactly the same. No, they are not just similar. Except for the difference in the name of the programs, they are the same. They look the same, they function the same, the websites are identical, and both will rip you off. The fact of the matter is that Blockchain 2 Bank software is just the same old Banking on Blockchain scam with a new name. It has been repackaged, renamed, and is back with a vengeance to steal your money!
Who Is In Charge Of Blockchain 2 Bank Software?
Just like with the Banking on Blockchain app, for the Blockchain 2 Bank system, we still have no idea who is really in charge. We are never told the name of a person, whether man or woman, who could possibly be the leader of this phony cryptocurrency trading system. Yes, we are told that there are hundreds of developers and trading strategists involved. However, we are never told the name of a single developer, strategist, owner, founder, CEO, or anybody else. In other words, the Blockchain 2 Bank app is totally anonymous.
When any kind of crypto trading service like Blockchain 2 Bank software is anonymous, it is only for one reason, which is to protect criminals. The owners of this Blockchain 2 Bank trading app are fraudulent crooks. They choose to remain hidden in the shadows so they don't go to prison for stealing from you with this awful Blockchain 2 Bank trading system. On a side note, yes, we are told that the company name is Blockchain 2 Bank LTD, but this is not true either. We looked up Blockchain 2 Bank LTD in business registries and financial regulation boards from around the world. This company simply does not exist, which brings us to another and even bigger problem.
Blockchain 2 Bank App – Unlicensed & Unregulated
Something that is painfully obvious about Blockchain 2 Bank software is that it is totally unlicensed and unregulated. Cryptocurrency trading systems are companies which perform financial activities and provide financial services. This is what the Blockchain 2 Bank app claims to be, a cryptocurrency signals provision service and trading platform. Therefore, in order to operate legally, it needs to be licensed by a legitimate financial institution. However, at the bottom of the webpage there is a little disclaimer which states that Blockchain 2 Bank LTD is a technology provision company.
Furthermore, it goes on to state that the Blockchain 2 Bank app is not licensed or regulated. These guys try to use semantics and rhetoric to fool us, but it does not work. The Blockchain 2 Bank app is not legally allowed to perform the actions which it claims to perform. This means that this system is either making BTC and cryptocurrency trades without legal consent, or it does not actually make trades at all. It is pretty clear that the Blockchain 2 Bank app is just an empty shell. It never makes any trades at all. It is nothing more than an account where you deposit money for the crooks on the other end to steal from you.
Blockchain 2 Bank App – Other Disturbing Facts
There are quite a few other dirsturbing pieces of evidence which prove once and for all that the Blockchain 2 Bank app is a scam.
The Blockchain 2 Bank app is said to generate over $5,000 per day without fail. This can apparently be done on a minimal investment of $250. This is simply impossible for even the best cryptocurrency trading app to achieve. There are no two ways about it.
Even if this system could generate $5,000 per day, we are never told how it does this. What trading strategies, algorithms, and analytical tools are involved? These are all things we need to know.
The website features clearly doctored and fabricated trading results. They have no expiry times or initial investment amounts, plus even the lost trades are shown to be profitable.
The Blockchain 2 Bank website is chalked full of completely bogus user testimonials. None of the people who left Blockchain 2 Bank testimonials are genuine in the least.
Blockchain 2 Bank Review – Conclusion
The final verdict here is that the Blockchain 2 Bank trading app is a fraudulent rip off. It has the express intent of stealing your money and it will do so if you sign up with it.

BEST CRYPTO-TRADER: Crypto Advantage
If you would like to engage in reliable and profitable cryptocurrency and Forex trading, we would highly recommend giving the brand new Crypto Advantage app a look at. It is currently the best, most credible, and highly profitable cryptocurrency trading system available today. With an easy to use platform, lots of options, a high ITM rate, and lots of potential for profits, you really cannot go wrong with Crypto Advantage software.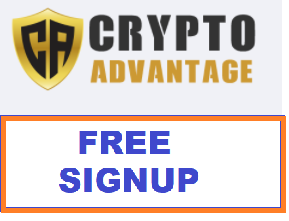 CLICK HERE: READ OUR CRYPTO ADVANTAGE REVIEW
IMPORTANT: If you have any questions, issues or you experience any problems please email us and we will be glad to assist you. Our contact customer support email is: [email protected]. If you register with this service from our website then you will always have our full free support in case you run into any issues or problems. Remember that you are not alone, with us you will always be safe!
To date, we have settled close to 2,000 trading disputes and we will not stop until we put every last scam out of business! If you have been cheated out of money or scammed by any fraudulent trading service, we encourage you to reach out to our complaint center for free help. If you need help, we will provide it for you! 
For more information regarding Cryptocurrencies and Crypto trading please visit our sister site: cryptocurrencyarmy.com
Thank you very much for reading this detailed review. Subscribe to our blog in order to be fully protected and to be up to date with all binary options services out there. Additionally please share and follow us on Facebook, Twitter, Google+ and Pinterest. See you next time!
Summary
Reviewer
Review Date
Reviewed Item
Author Rating