ICO Money Maker Review: BTC SCAM!
OFFICIAL SCAM URL: ICOMoneyMaker.com
The ICO Money Maker app is supposed to be the world's best cryptocurrency trading service. However, there is a lot of room for doubt here. We did a ton of digging around into ICO Money Maker software and the signs are not good. Yeah, cryptocurrencies are a great investment opportunity right now, but not if you use a scam program like ICO Money Maker trading software. We're doing an ICO Money Maker scam review in order to warn you about this malicious trading software.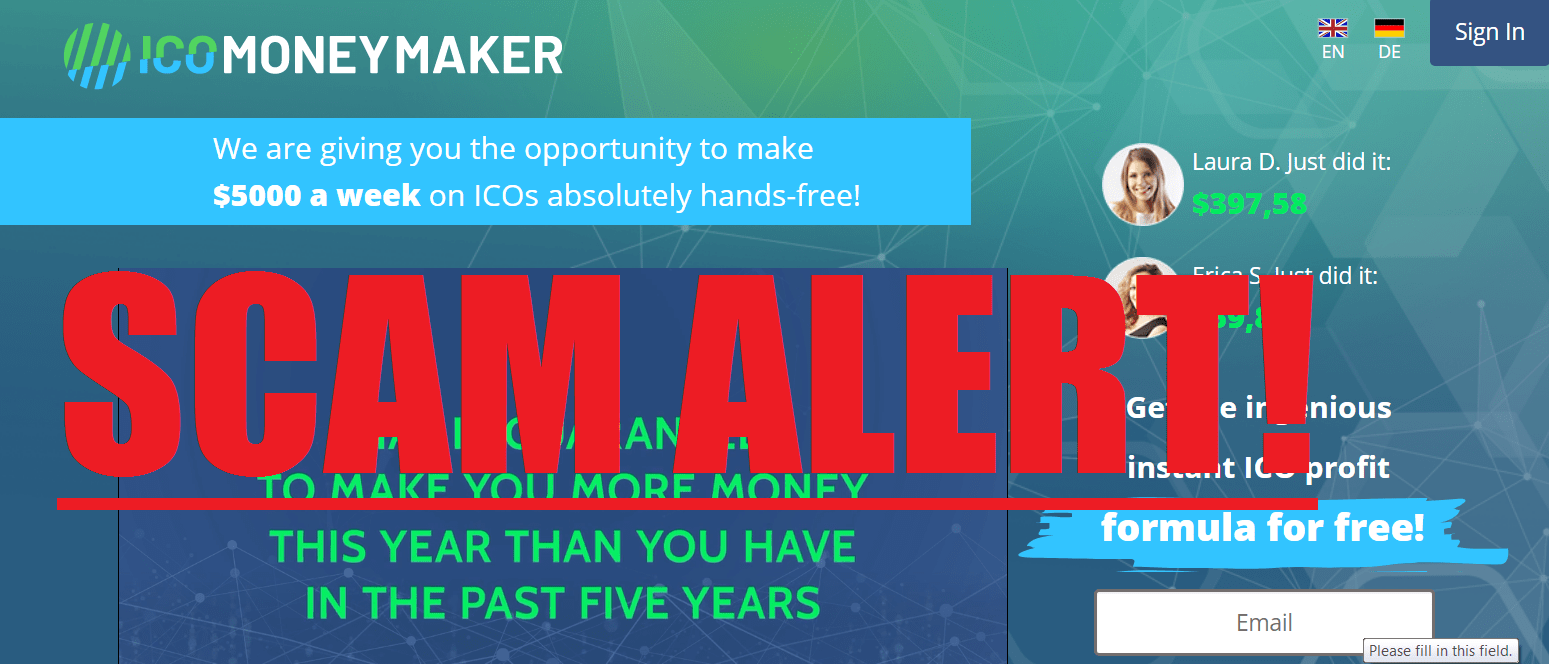 ICO Money Maker Software – NO REAL PEOPLE!
One of the clearest indications that the ICO Money Maker app is a scam has to do with the people in charge. During the presentation video featured on the website, we are informed that a man who calls himself Tony Shaffer is the owner of this cryptocurrency trading system. He claims to be some big time cryptocurrency trading expert that will help us make a ton of money. Sure, this sounds great, but it also is not true. We never actually get to see his face.
During the presentation video, he comes to us in the form of voice narration. We don't see him live in action, only his voice is privy to us. Well, this is always a really bad sign when it comes to software like this ICO Money Maker app. Using voice narration is a really easy way for the real crooks in charge to conceal their true identities. We did a lot of snooping around and were not able to find a single shred of evidence which would confirm that this Tony Shaffer guy is in any way real or genuine. In other words, he is just a totally made up and fictitious personality.
He is being portrayed by a random voice actor hired to read a lackluster script for a few dollars. The bottom line is that this man does not really exist at all and he certainly is not in charge of this ICO Money Maker scam app. The real criminals running the show know that ICO Money Maker software is illegal and fraudulent. They are remaining hidden in the shadows of anonymity in order to avoid a prison sentence for stealing your money. Never trust any kind of BTC trading system like this when you have no idea who is really in charge!
ICO Money Maker App – No Licensing
Another telltale sign that the ICO Money Maker trading app is a rip of has to do with them being anonymous, as we mentioned before. What the issue is here is that this cryptocurrency trading system is clearly not licensed to do what it claims to do to, which is trade BTC and cryptocurrencies. The reason why we say that ICO Money Maker is unlicensed is very simple. First off, only the most transparent, reputable, and credible of companies and people can acquire these signals provisions and trading licenses.
However, we have already figured out that Tony Shaffer and the company itself is fraudulent. This means that ICO Money Maker software cannot possibly be licensed. No sane licensing board would ever give these crooks a license to trade cryptocurrency and to handle your money. This can only mean one of two things.
Maybe the ICO Money Maker app does actually trade, but is doing so without legal consent. This would mean that any profit you make with this app could be viewed as illegal gains, therefore getting you in a lot of trouble. However, most likely, the ICO Money Maker app never performs any kinds of trades at all. It is nothing more than a bunch of hot air and a big empty shell. The purpose of this BTC trading app is to steal your money. It's nothing more than a trading account where you deposit money for the crooks on the other end to syphon out whenever they see fit.
ICO Money Maker Trading App – Shady Brokers
Yet another red flag that came to our attention is the fact that there cannot possibly be anything close to a reliable and legit broker involved here. The fact of the matter is that brokers need to be licensed and regulated just like the apps they trade for. Brokers need to uphold certain standards and they need to maintain a good reputation if they expect to stay in business for any prolonged amount of time.
This means that any legit, credible, and reliable broker with a license would never jeopardize its good standing in the trading world by connecting itself with a fraudulent app like ICO Money Maker software. In other words, no really legitimate broker would ever be connected with the ICO Money Maker app. If there is a broker connected here at all, it is one that is going to steal your money without question.
ICO Money Maker App – Other Disturbing Facts
There are quite a few other disturbing pieces of information in terms of the ICO Money Maker app which you definitely need to know about.
The ICO Money Maker app looks exactly the same as the Crypto Money Maker app. Everything from their website and their presentation to their promises are identical to each other. Both of these systems were clearly made by the same group of criminals. Both are the same scams, just with a slightly different name.
We are never told how the ICO Money Maker app actually works. We are never informed of any kind of coherent trading strategy or any kind of useful algorithm. We are expected to trust this BTC trading system without actually knowing a single thing about how it works.
Earning over $1,000 per day is something that only the very best cryptocurrency trading tools in the world can accomplish. The ICO Money Maker app is certainly not one of those.
ICO Money Maker Review – Conclusion
There is really nothing left to say about ICO Money Maker software except that you need to stay away from it. Needless to say, using the ICO Money Maker app will result in nothing but the total loss of any and all investments and trades you make with it.

BEST CRYPTO-TRADER: Crypto Advantage
If you would like to engage in reliable and profitable cryptocurrency and Forex trading, we would highly recommend giving the brand new Crypto Advantage app a look at. It is currently the best, most credible, and highly profitable cryptocurrency trading system available today. With an easy to use platform, lots of options, a high ITM rate, and lots of potential for profits, you really cannot go wrong with Crypto Advantage software.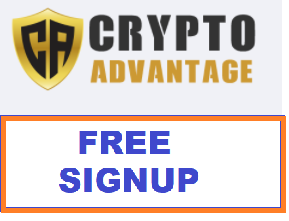 CLICK HERE: READ OUR CRYPTO ADVANTAGE REVIEW
IMPORTANT: If you have any questions, issues or you experience any problems please email us and we will be glad to assist you. Our contact customer support email is: [email protected]. If you register with this service from our website then you will always have our full free support in case you run into any issues or problems. Remember that you are not alone, with us you will always be safe!
To date, we have settled close to 2,000 trading disputes and we will not stop until we put every last scam out of business! If you have been cheated out of money or scammed by any fraudulent trading service, we encourage you to reach out to our complaint center for free help. If you need help, we will provide it for you! 
For more information regarding Cryptocurrencies and Crypto trading please visit our sister site: cryptocurrencyarmy.com
Thank you very much for reading this detailed review. Subscribe to our blog in order to be fully protected and to be up to date with all binary options services out there. Additionally please share and follow us on Facebook, Twitter, Google+ and Pinterest. See you next time!
Summary
Reviewer
Review Date
Reviewed Item
Author Rating