Bitdax Global Scam Review: CRYPTO SCAM!
OFFICIAL SCAM URL: bitdaxglobal.com
The Bitdax Global ICO might look like the real deal, but it is anything but reliable or profitable. It claims to provide huge returns for little to no work on your behalf. It is obviously a big load of horse manure and we are here to shut this cryptocurrency initial coin offering scam down once and for all. This is our Bitdax Global review and it is going to show you why you need to stay away from this ICO as far as you can!
Bitdax Global ICO – TOTALLY ANONYMOUS!
The Bitdax Global system has no clear leadership. As far as we can tell, it is totally anonymous. We are never told who the real owners, leaders, and programmers are. This is something that we cannot get past.
Every single time we have ever encountered a cryptocurrency trading app or initial coin offering that was anonymous, it turned out to be a scam. You just cannot ever trust anything that is anonymous, especially when it is asking you for your money.
Bitdax Global System – FAKE MENTORS!
The Bitdax Global website displays a bunch of so called "African Trading Mentors". Well, these guys are all completely fake. They are phonies, nothing more than stock images taken from other sites and combined with fictitious names. These men, notice how they are all men, do not actually exist in real life and they certainly have no association with this Bitdax Global scam.
Bitdax Global Scam ICO – FAKE COMPANY!
The company itself, Bitdax Global LTD, seems to be completely non-existent. All of the contact details provided on the website are fake. We tried contacting these scammers and of course we came up empty.
Moreover, this business claims to be registered in the UK, but there is no evidence of this either. We did a lot of digging around and it appears as though this company only exists in name and on the website. It is not a real company and therefore it must be a scam.
Bitdax Global ICO Scam – NO LICENSE!
The Bitdax Global company is not licensed to take investments from people or to do anything else which it claims to do. A company or person cannot just start taking investments from people at will without legal authority, nor can somebody just start providing financial advice. These are both strictly regulated financial activities which require the proper licensing, legal authority, and more.
Well, no sane licensing agency would ever provide this Bitdax Global ICO with the right to accept investments from people. They would more or less be providing these criminals with a license to steal money from you. In other words, if these guys take your money, they are doing so illegally.
Bitdax Global Program – NO PROOF OF MEMBERS!
The Bitdax Global initial coin offering website claims that this ICO already has close to 16,000 active members. Yet, once again, there is no proof offered to back up this claim. Not once do we get to meet any of these members.
This is a big problem. It seems as though this claim of membership is nothing more than a trick meant to lend some false legitimacy to this app where absolutely none is due. Where are these members? What are their names? We don't know and that is a big problem.
Trading With Bitdax Global Software – LOSER!
We definitely have a big problem with the automated crypto trading platform which the Bitdax Global ICO claims to have created. For one, there are no screenshots or any other kind of evidence which would prove that there is a trading system of any kind.
Yes, we are told that the Bitdax Global trading app uses great AI and super powered algorithms to execute successful trades. However, the total lack of proof is very disconcerting. Also, there is no mention of what trading strategies are being used here, what kind of market indicators are being adhered to, and what kind of technical analysis is being performed.
We are supposed to believe that the Bitdax Global program has a great auto trader bot, but we are not offered a single shred of proof to support this. As far as we can tell, there is absolutely no trading going on here whatsoever.
Bitdax Global ICO – NO PROFITS!
The Bitdax Global system claims that there are many ways to make a profit with this initial coin offering besides through the automated cryptocurrency trading app. However, this is simply not true. Sure, the profit methods are described, but they are not real at all.
We cannot stress enough how all of the people who we have contacted have been screwed out of their money. Nobody has ever gotten a return from this cryptocurrency initial coin offering. The fact that there have been no profits so far is a really bad sign, one that is inherent of a scam.
Bitdax Gloval Scam System – PONZI & PYRAMID SCHEME!
One thing that is painfully obvious about this particular initial coin offering is that it is both a pyramid and a Ponzi scheme. It has all of the classic makings of a Ponzi scheme. It promises huge guaranteed returns with no risk of loss, yet when the returns come is never explained.
Everybody we have talked to so far has the same complaints. They invest a bunch of money and it simply disappears without any ROI ever being made. This is exactly what a Ponzi scheme is.
Furthermore, the Bitdax Global ICO is also a pyramid scheme. It uses an affiliate bonus program to try and fool people into getting their friends to sign up. The problem here is that no such affiliate bonuses are ever paid out, which is totally illegal to say the least. The bottom line is that this is indeed a complete scam and it is not to be trusted.
Bitdax Global Review – Conclusion
The Bitdax Global initial coin offering is just another scam in a long line of crypto scams. The only purpose it serves is to steal money from you and put it in the pockets of the anonymous crooks running the show. If you want to use a good cryptocurrency trading app, you are far better off using the reliable and profitable Maximus Edge Crypto Bot.
BEST CRYPTO TRADING SYSTEM: MAXIMUS EDGE CRYPTO BOT!
CLICK: READ OUR MAXIMUS EDGE CRYPTO BOT REVIEW RIGHT HERE!
SIGN UP FOR MAXIMUS EDGE CRYPTO BOT BELOW!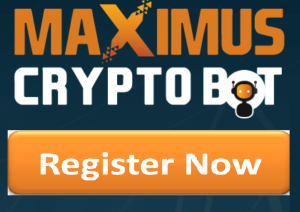 IMPORTANT: If you have any questions, issues or you experience any problems please email us and we will be glad to assist you. Our contact customer support email is: binaryoptionsarmy@gmail.com. If you register with this service from our website then you will always have our full free support in case you run into any issues or problems. Remember that you are not alone, with us you will always be safe!
To date, we have settled close to 2,000 trading disputes and we will not stop until we put every last scam out of business! If you have been cheated out of money or scammed by any fraudulent trading service, we encourage you to reach out to our complaint center for free help. If you need help, we will provide it for you!
For more information regarding Cryptocurrencies and Crypto trading please visit our sister site: cryptocurrencyarmy.com
Thank you very much for reading this detailed review. Subscribe to our blog in order to be fully protected and to be up to date with all binary options services out there. Additionally please share and follow us on Facebook, Twitter, Google+ and Pinterest. See you next time!
Summary
Reviewer
Review Date
Reviewed Item
Author Rating